Description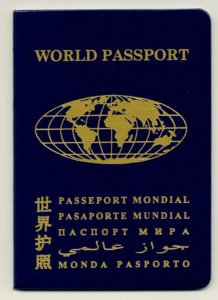 A passport for the "World Citizen" or anyone looking to break down the artificial borders that artificially divide all humanity.  This travel document, accepted on a case-by-case basis by more than 185 UN member nations around the world, symbolizes our One Planet, One People and Plane theme and is intended to bring the world together.
World Service Authority (WSA) will donate 20% of the document issuance fees to the DeLaurentis Foundation.
Pricing varies based one the time of validity; and, there are additional options provided by WSA.  We are choosing the shortest timeframe passport here to initiate the purchase, after which we will contact WSA on your behalf who will reach out to you to explain your options, answer any questions, and then process your choice should you choose another option.
Available options include:
3 year validity passport = US$55
5 year validity passport + US$75
10-year passport = US$100
World ID Card = US$25
World Birth Card = US$25
World Birth Certificate = US$25
World Citizen Card & Certificate = US$30
International Exit Visa = US$20
International Residence Permit = US$20